Guided Tour of Stonehenge & Roman City of Bath
Experience the neolithic wonder and enduring spiritual mystery that is the standing stones of Stonehenge, along with the historic ancient Roman city of Bath in one historic day tour from London with your private driver-guide.
Your guide will begin discussing the symbolism, significance, and fascinating tales that have contributed to the site's lore over the centuries as you make your way from London to Salisbury in the comfort of our private air-conditioned vehicle. Upon arrival, you will be able to walk amongst the magnificent stones on a private guided tour experience.
In the afternoon your historic tour of Britain continues as your driver-guide takes you to Bath. A city that retains strong links to its Ancient Roman history, with the highlight being the still operational Roman Baths.
Ancient Stonehenge & Roman City of Bath Itinerary
In the morning your driver-guide will collect you from your London accommodation. 
During the scenic drive, they can share their insight and knowledge of the ancient wonders you will visit on the tour, and discuss the fascinating history, myths, and legends that surround them.
Stonehenge Exhibition Center & Museum
To contextualize, familiarize, and acquaint yourself with the significance, mythology, and folklore surrounding the prehistoric standing stones before you actually step out among them, your first stop will be at the nearby visitors center and museum.
The audio-visual exhibitions are fun and entertaining for all ages and discuss some of the key mysteries of Stonehenge such as how the formation was constructed, how the stones themselves were transported here, and ultimately theories on the significance of Stonehenge back in the neolithic period.
Private Tour Amongst the Standing Stones of Stonehenge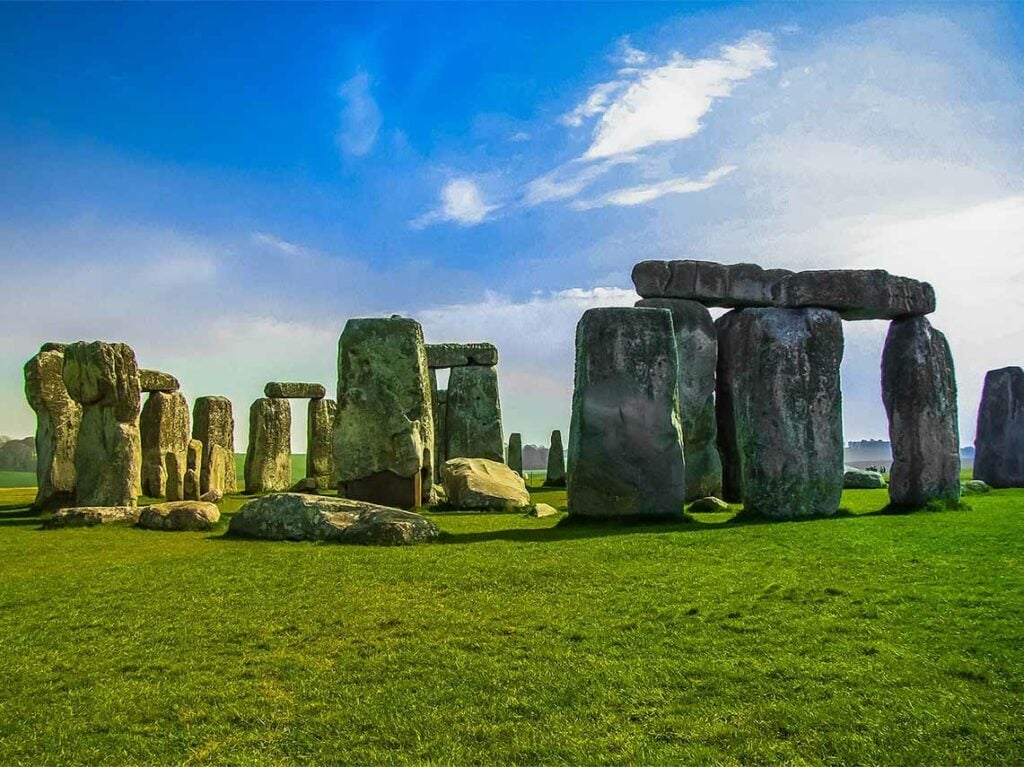 Walking into the stone circle at Stonehenge with your private guide is like traveling 5000 years in the past to the times of ancient pagans paying homage at the temple.
Stonehenge is uniquely rich in mythos and fables. From a scientific standpoint, it is a key site to understanding prehistory and the study of ancient archeology, while some claim it has a spiritual pull that connects them to ancestral spirits and beyond. A private tour provides both the insight and the space to forge your own particular bond with the site.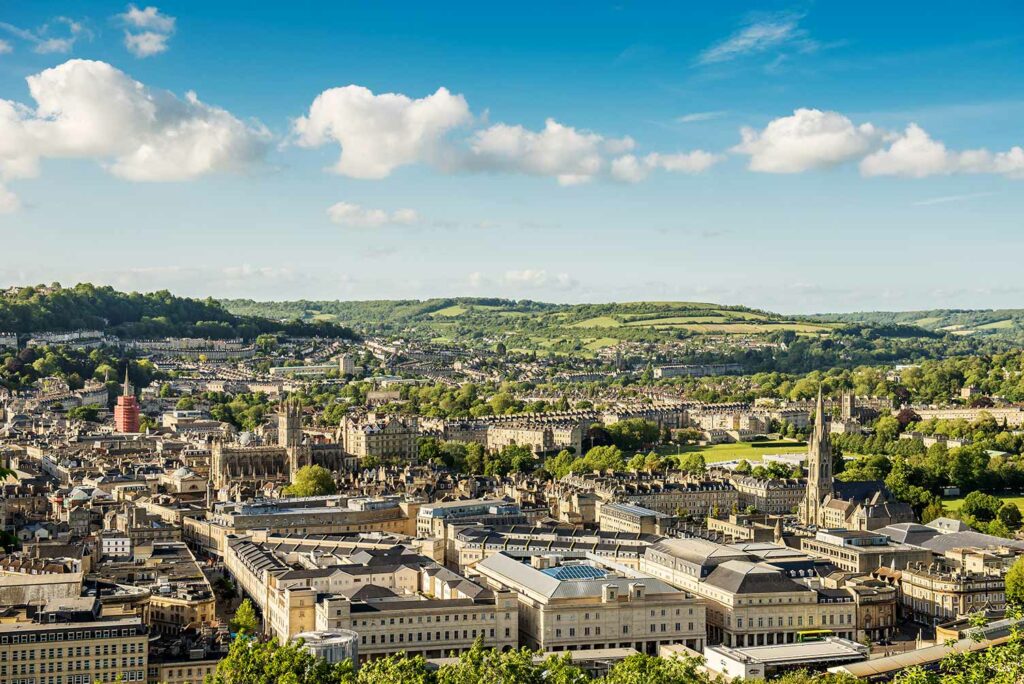 Outside of the Roman heritage on display in Bath, the surrounding city is famous for its abundant 18th-century ornate Georgian architecture that will make you feel like you have walked onto the set of a period drama like Bridgerton or out of the pages of a Jane Austin novel.
Along with your private driver-guide, you will visit:
Bath Abbey, 

The Royal Crescent 

The Circus 

Monuments to many great writers and authors including Jane Austen, Mary Shelley, & Charles Dickens
Private Tour of The Roman Baths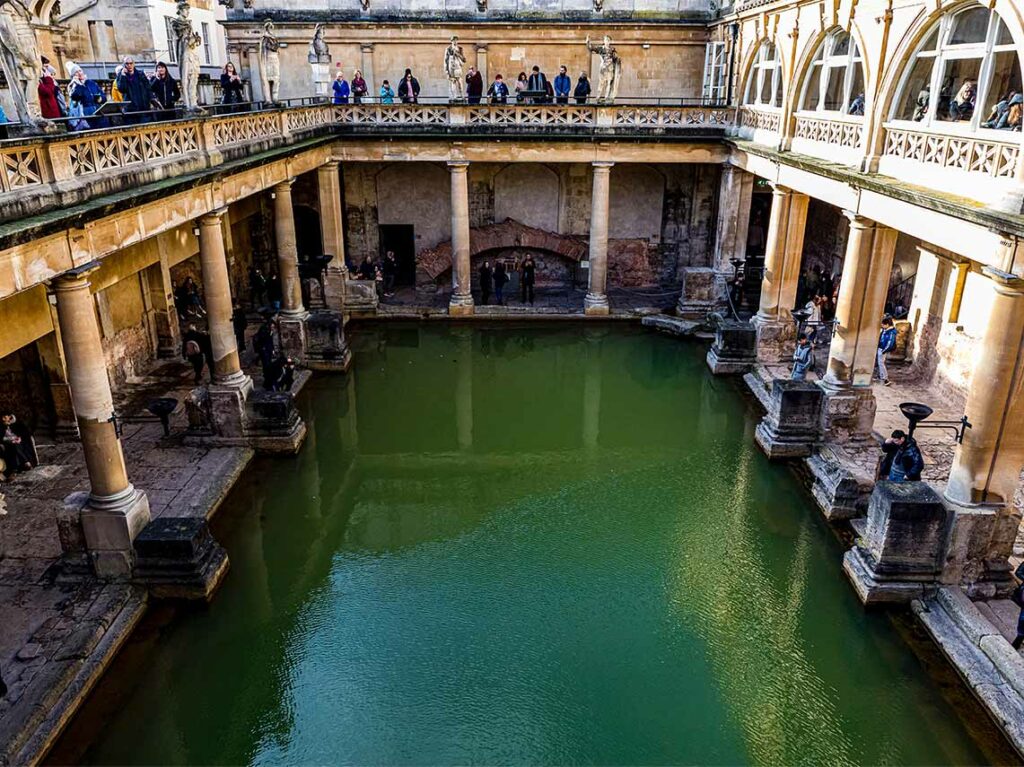 The highlight of our tour of ancient Bath is found in the center of the city at the remarkably well-preserved remains of one of the greatest historic spas to be found outside of Rome.
With a history dating back to 60-70AD, the Romans gradually added to the site over the following 300 years to craft a truly incredible temple and bathing structure, cunningly constructed in the only hot spring found in the entire UK.
On your private tour, you will discover the water's source and walk in the shoes of the ancient Romans as you are guided around the ancient stone pavements and preserved (and still flowing) baths themselves.
Your private tour guide will take you to explore the four main sections of the baths: the Sacred Spring, the Roman Temple, the Roman bathhouse and finds from Roman Bath.
Get Your custom Stonehenge & Bath Tour Itinerary
Do you like what you see but want to spend more time visiting significant ancient locations around England? Or alter the tour to include a visit to a destination with links to your family heritage?
Quite simply, we have a team of English tour planners ready to craft a completely complimentary custom tour itinerary for you regardless of locations, activities, or however many days you would like to tour to last.
To find out what we could create for your custom tour send us an online inquiry using the form below.
Excellent tour planning and execution of our ten day tour of England! I worked with Amy on a 10-day tour of England for me, my husband, and a High School senior from London to Liverpool and back. The entire experience was fantastic. From the start of the planning process through the trip itself, Amy was very responsive and accommodating. She worked with us every step of the way, and it was a perfect trip!!!
My husband and I took tours with Doug, one to the Cliffs of Dover and Leeds Castle and another to Stonehenge and Bath. Our driver and tour guide was great, very knowledgeable about our destinations, and he had anything you needed in his car, including internet service. I would use this company again for future European tours
Travel with no worries! We booked five different transfers in England, Wales, and Scotland. Each driver was on time, courteous, professionally representing the company. Marta was wonderful when I emailed to make additions or changes to our itinerary. This company made it possible to have a trip with excellent drivers and no worries about all our different travel destinations.
I don't know that I can accurately capture how amazed, pleased, and thoroughly blown away I was after a week of hopping across Italy and England. What the company was able to accomplish with an itinerary and how Declan did value-added stops was nothing short of astonishing. Thanks to you and Declan, I didn't just make a memory. I made new friends. On behalf of my family, a sincere and heartfelt 'thank you.'
Amy took our desire to visit England and put together a fabulous itinerary for my wife and I. Private Tours England took care of all the details for the driver, Blue Badge guide and booked all accommodations. We wanted the hotels to be one-of-a-kind boutique-style hotels, and Amy delivered that in spades. The hotels were all fun with just the right amount of quirky personality. Well done!
We booked a tour for Ireland, Scotland, and England. We had a fantastic time! The local guides were great! Very knowledgeable about all the local history for all the places we saw! We toured the Cliffs of Moher and Dover, saw the Cotswolds, spent time in the Scottish Highlands, saw amazing castles and ruins. We arrived in London a few days before the Jubilee and got to see London in all its splendor.