London Day Trip: White Cliffs of Dover & Canterbury
Our private driver-guided tour to the White Cliffs of Dover and the medieval village town of Canterbury – featuring 3 UNESCO World Heritage sites – is perhaps the finest option for a day trip out of the city of London.
The serenity offered by the stunning views and soothing wildlife at the White Cliffs of Dover are the perfect antidote to the hustle and bustle of London, while Dover Castle provides a taste of England's feudal heritage and fascinating tales of the castle's role in WW1 & 2. 
Chaucer's Canterbury Tales tells the story of 30 pilgrims making their way from London to Canturbury, your trip, however, will be far more luxurious as you travel in our executive class vehicles to this most beautiful and historic town. Your tour will conclude with your driver-guide returning you to your London accommodation for the evening.
Our private tour of Our Dover Castle, White Cliffs, & Canterbury includes:
White Cliffs of Dover & Canterbury Private Tour Itinerary
Your private driver-guide will collect you from your accommodation in the morning and you will begin the scenic drive to the coastal town of Dover in Kent to reach the world-famous cliffs.
As well as their beauty the cliffs are famous for historical and military reasons. They were often the first and last view of the UK that sailors had when setting off or returning from war, and of course, during World War 2 the guns positioned here were the front line of the nation's defense.
Upon arrival, you can take the opportunity to explore the incredible breathtaking views on offer along the cliffside walking path. Reaching a height of 350 feet (110m) the sheer face of the cliffs is truly an unforgettable sight to see in person. When you make your way to the old Victorian-era lighthouse (constructed in 1846) you will be able to see shrapnel scars from the conflict embedded in the structure.
Guided Tour of Dover Castle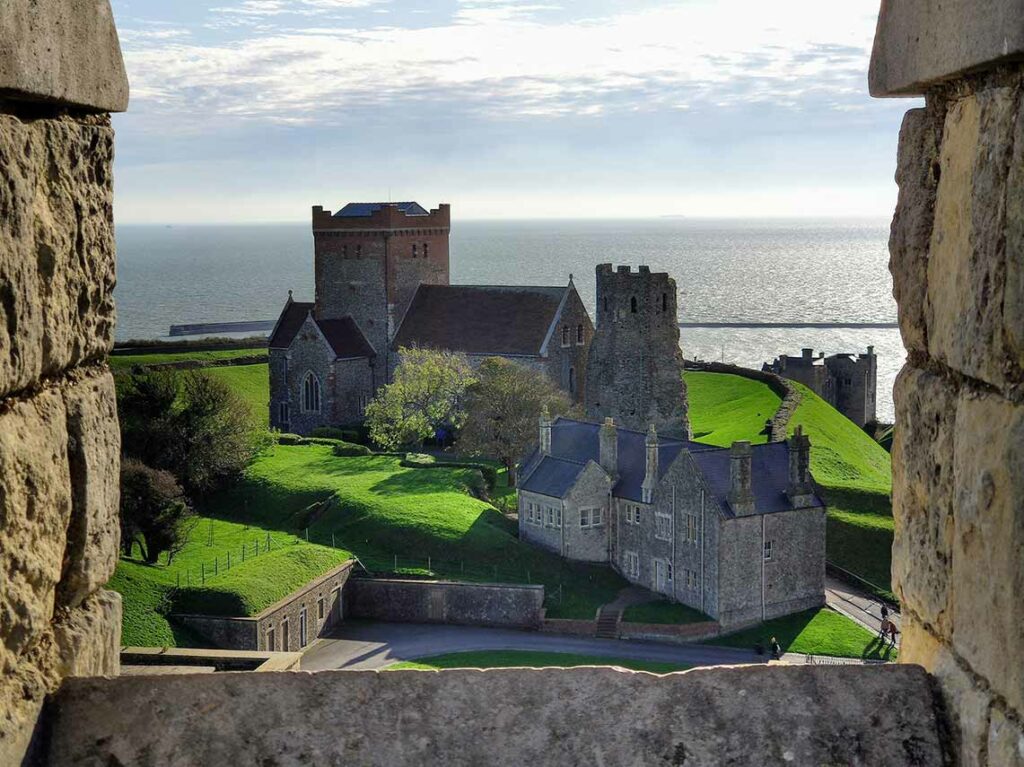 Founded all the way back in the 11th century, Dover Castle has a fascinating history unlike any other. Your guide will reveal why it was known as the 'keys to England' as they discuss the role Dover Castle played throughout history, from the era of the Roman invasion, through Saxon and Napoleonic times, all the way up to its current standing.
Canterbury Cathedral & Town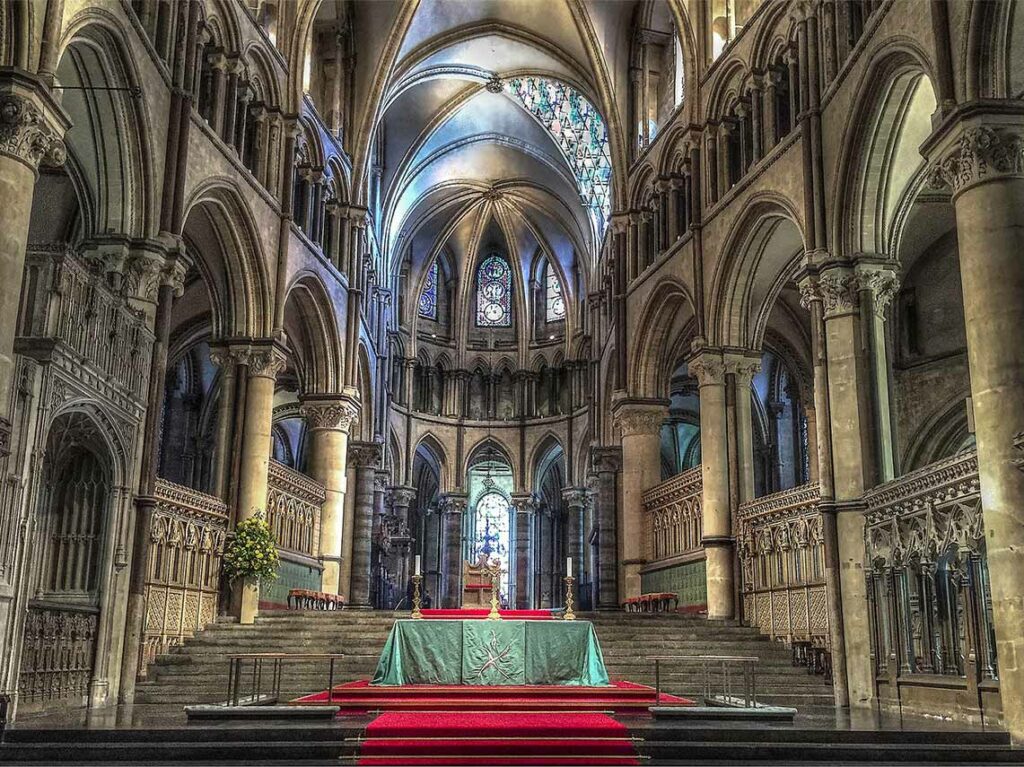 Your driver-guide will deliver you to the historic town center in Canterbury as you explore the centennial walls and cobbled streets.
Your first destination in Canterbury will be a guided tour around the gorgeous Gothic architecture and stunning stained glass windows of Canterbury Cathedral, a pilgrimage site since the middle ages and known as the mother church of the Anglican Communion worldwide.
Church of St Martin & ruins of St Augustine's Abbey
Believed to be the oldest church in the English-speaking world, St Martins Church has a history dating back to 600AD. On your tour, you will be able to see where different sections of stone have been cut back to reveal Roman, Saxon, and Medieval influences throughout the centuries.
The ruins of a Saxon church constructed in 597AD, St Augustine's Abbey was used as the burial ground for Anglo-Saxon kings of Kent. Currently, you can immerse yourself in a virtual reality experience where you can don the headset to feel how things would have looked to visitors back in the 16th Century!
Get Your complimentary Custom Cliffs of Dover & Canterbury Itinerary
You can select your preferred dates and reserve your private tour of Dover and Canterbury straight away, however, it is always our preference to speak to our guests and find ways that we can customize and alter the itinerary to even better suit their needs and preferences.
This is a completely complimentary process that is purely designed to provide the greatest tour experience possible for you and your private group. Complete our online inquiry form and find out how our tour planners can create a tailored experience just for you!
Excellent tour planning and execution of our ten day tour of England! I worked with Amy on a 10-day tour of England for me, my husband, and a High School senior from London to Liverpool and back. The entire experience was fantastic. From the start of the planning process through the trip itself, Amy was very responsive and accommodating. She worked with us every step of the way, and it was a perfect trip!!!
My husband and I took tours with Doug, one to the Cliffs of Dover and Leeds Castle and another to Stonehenge and Bath. Our driver and tour guide was great, very knowledgeable about our destinations, and he had anything you needed in his car, including internet service. I would use this company again for future European tours
Travel with no worries! We booked five different transfers in England, Wales, and Scotland. Each driver was on time, courteous, professionally representing the company. Marta was wonderful when I emailed to make additions or changes to our itinerary. This company made it possible to have a trip with excellent drivers and no worries about all our different travel destinations.
I don't know that I can accurately capture how amazed, pleased, and thoroughly blown away I was after a week of hopping across Italy and England. What the company was able to accomplish with an itinerary and how Declan did value-added stops was nothing short of astonishing. Thanks to you and Declan, I didn't just make a memory. I made new friends. On behalf of my family, a sincere and heartfelt 'thank you.'
Amy took our desire to visit England and put together a fabulous itinerary for my wife and I. Private Tours England took care of all the details for the driver, Blue Badge guide and booked all accommodations. We wanted the hotels to be one-of-a-kind boutique-style hotels, and Amy delivered that in spades. The hotels were all fun with just the right amount of quirky personality. Well done!
We booked a tour for Ireland, Scotland, and England. We had a fantastic time! The local guides were great! Very knowledgeable about all the local history for all the places we saw! We toured the Cliffs of Moher and Dover, saw the Cotswolds, spent time in the Scottish Highlands, saw amazing castles and ruins. We arrived in London a few days before the Jubilee and got to see London in all its splendor.