Welcome to our blog about the top-secret spots in England! From hidden gardens to underground tunnels, England is full of hidden gems that are waiting to be discovered. In this blog, we will take you on a journey to some of the most incredible and lesser-known places in England, including The Heights of Abraham in Derbyshire, Blakeney Point in Norfolk, St Ives in Cornwall, Little Venice in London, and Gaping Gill Cave in North Yorkshire. Each of these places offers something unique and special, whether it's stunning views, rich history, or an abundance of wildlife. Whether you're a local looking for a new adventure or a tourist looking for a hidden gem, this blog is for you. So, join us as we explore some of the best-kept secrets in England's cities!
Heights of Abraham, Derbyshire
The Heights of Abraham is found in the town of Matlock Bath, in the Derbyshire Dales of England.
The main attraction is the cable car ride, which takes visitors up to the top of the hill and offers panoramic views over the surrounding countryside. Once at the top, visitors can explore the park's gardens, which feature a range of plants and flowers, as well as a number of sculptures and other works of art.
The park also has a number of underground caves, which can be explored on guided tours. These caves were once used for mining, and are now home to a variety of stalactites and stalagmites. Additionally, the park has a number of restaurants, cafes, and shops, as well as a children's play area.
The park is named after Abraham Darby, who was an important figure in the Industrial Revolution and who played a key role in the development of the town. Although considered a hidden gem in terms of U.K tourism attractions it is well-known amongst the locals for its stunning views and interesting history.
Blakeney Point, Norfolk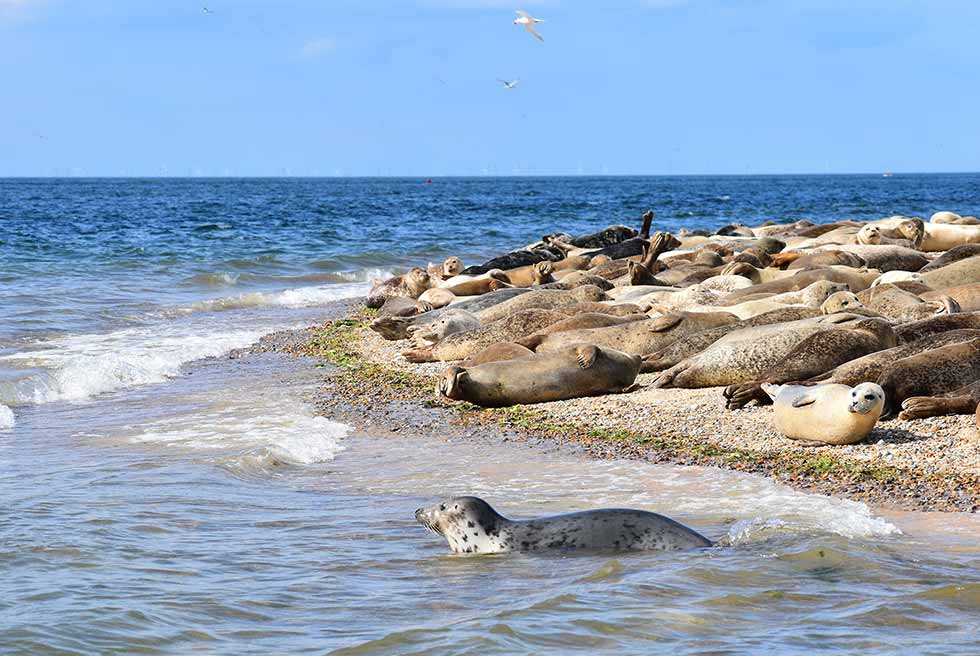 Blakeney Point is a National Nature Reserve and a Site of Special Scientific Interest located on the coast of the county of Norfolk, in the East of England. It is a 4.5-mile-long spit of shingle and sand that extends out into the North Sea, and is home to a rich variety of flora and fauna.
The Point is considered a hidden treasure for the wildlife watching opportunities it provides, and in particular for its seal colony, which is one of the largest in England. The area is also popular with birdwatchers, as it is home to a number of rare and endangered species, such as the bittern and the marsh harrier.
Alongside the wildlife on display here, Bleakeney Point is home to underappreciated coastal walking routes and trekking.
St Ives, Cornwall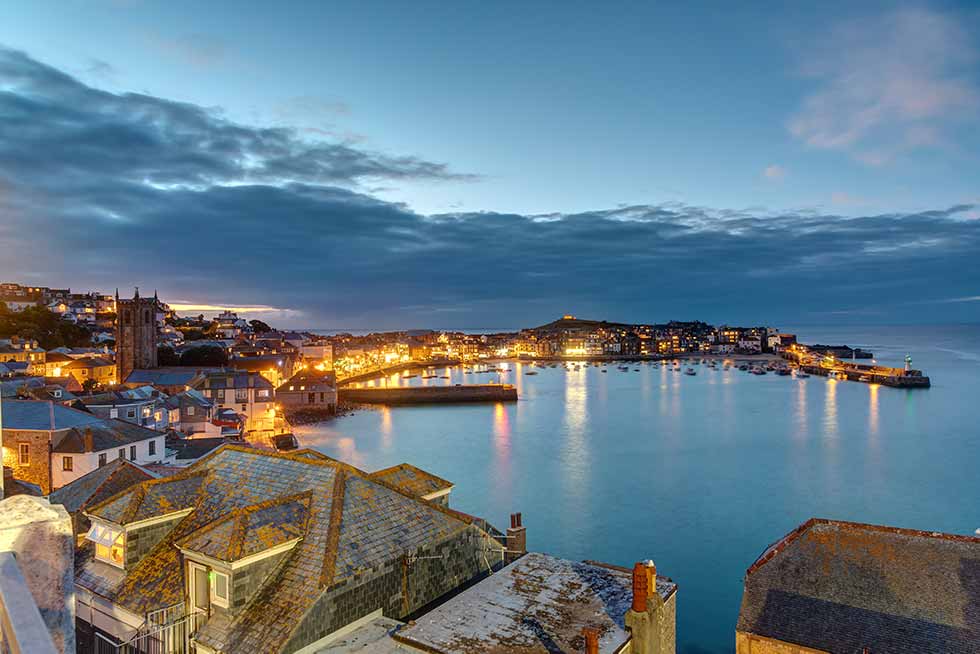 St Ives is a small town in Cornwall, England that is considered a hidden gem because of its beautiful beaches, picturesque harbor, and charming streets. The town is known for its vibrant arts scene, with many galleries and studios showcasing the work of local artists.
Spend your days here getting away from it all and exploring the town's winding streets and taking in the stunning views of the coast. You can also visit the Barbara Hepworth Museum and Sculpture Garden, which is dedicated to the work of the famous British artist.
Other popular activities include surfing, swimming, and sunbathing on the town's beautiful beaches, or taking a boat trip to see the seals and seabirds that live along the coast.
There are also several restaurants and cafes that offer delicious local cuisine, as well as several pubs and bars where you can relax and unwind and get an authentic taste of village life in this glorious coastal town.
Learn more about Cornwall's delights in our Best Coastal Towns in England blog or during our 10 Day UK Tour Itinerary
Little Venice, London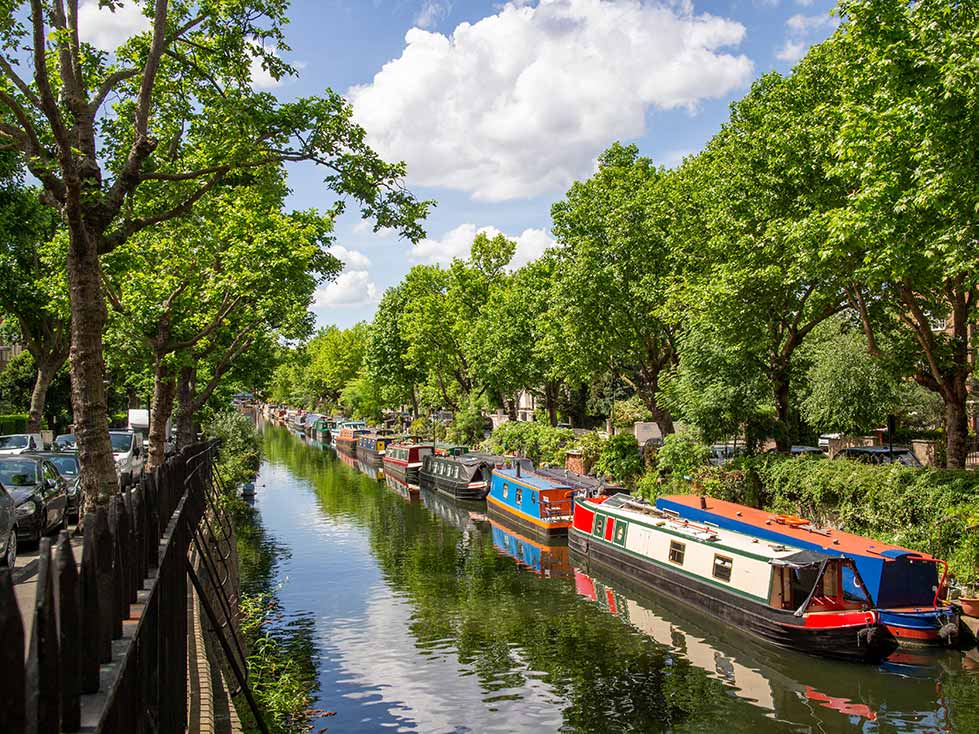 Little Venice is a little known neighborhood in London, England that is named after the canals and waterways that run through the area. The area is home to picturesque narrowboats, colorful houses, and charming cafes and restaurants. It is located in the north of the city, near the neighborhoods of Maida Vale and Regent's Park.
One of the most popular things to do in Little Venice is to take a boat trip along the canals, which offers beautiful views of the surrounding area. You can also visit the Paddington Basin, which is a hub of activity with many shops, restaurants, and cafes.
Other attractions in the area include the Puppet Theatre Barge, the London Museum of Water and Steam, and the Regent's Canal Towpath, which is a popular spot for walking and cycling.
If you're staying in London for a couple of days, check out our 4 Days in London Private Tour Itinerary for inspiration!
Gaping Gill Cave, North Yorkshire
Gaping Gill is a cave system in the Yorkshire Dales National Park in northern England. The cave is known for its large entrance, which is called Gaping Gill, and is one of the largest known underground chambers in the United Kingdom. The cave system contains many fascinating geological features, including underground waterfalls and streams.
Gaping Gill is a popular destination for cavers and speleologists, who explore the cave system and its many passages and chambers, however, outside of these specialist interest groups the sheer natural beauty of the area is sorely underappreciated. The cave is also known for its annual "Gaping Gill Open Weekend," when members of the public are able to visit the cave and see its underground wonders for themselves.
In addition to its geological features, Gaping Gill is also home to a variety of interesting plants and animals, including many species of bats. Overall, Gaping Gill is an incredible natural wonder that is well worth visiting for anyone interested in caves and underground environments.
Tyneham Ghost Town
Tyneham is a small village in Dorset, England that is often referred to as a "ghost town" because it was abandoned by its residents in 1943 during World War II. The village was taken over by the military for use as a training ground, and the residents were given just 28 days' notice to leave. They were promised that they would be able to return after the war, but this never happened, and the village has remained uninhabited since then.
Today, visitors can walk amongst the abandoned houses and buildings to learn about the village's history. The village is now owned by the Ministry of Defense, but it is open to the public on most weekends and during the school holidays. Visitors can explore the village and see the remains of the old houses and buildings, as well as the church and school. The village is also surrounded by beautiful countryside, making it a great place for walking and enjoying the outdoors.
Margate Shell Grotto, Kent
The Margate Shell Grotto is a unique underground cave in Margate, Kent, England. It is decorated with over four million shells, arranged in intricate patterns and designs on the walls and ceiling.
The exact purpose and meaning of the Shell Grotto is unknown, and it has been the subject of much speculation and mystery over the years.
The Shell Grotto was discovered in 1835, and it is thought to date back to the 18th century or earlier. It is a Grade I listed building and is considered to be a significant historical and cultural site. Visitors to the Shell Grotto can explore the underground cave and see the amazing shell decorations for themselves. The grotto is open to the public throughout the year, and it also hosts events and workshops.
Contact Our Hidden England Tour Specialists
If you are interested in exploring the hidden gems of England, our team of Hidden England Tour Specialists can help you plan the perfect trip.
With years of experience and in-depth knowledge of the country, our specialists can tailor a tour to your specific interests and needs. Whether you want to visit historic cities, explore the beautiful countryside, or discover hidden gems off the beaten track, our specialists can help you create a truly unforgettable experience.
To contact our team, simply complete our online inquiry form. We will respond within 24 hours, and we look forward to helping you plan your dream trip to England.